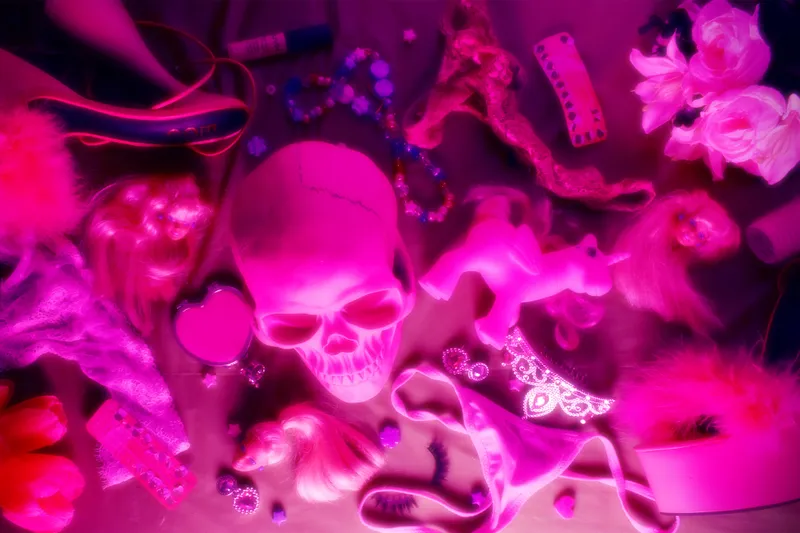 Hi! I'm Natasha, a graphic designer and photographer from South London. My practice is influenced by and often involves themes of gender, identity, social media, and pop/subculture. 
Feminine Objects & the Objectification of Femininity is a project that explores 'feminine' objects and symbols and their complexities. With an overarching focus on the object's links to the 'Madonna-Whore' complex. Through examining these stereotypically feminine objects we unpack their intricacies and connotations. My photographic outcome is accompanied with a publication which aims to contextualise the objects.
Monstress Zine is a risograph printed publication that celebrates women in horror and explores the genre through a queer, feminist lens. In the words of film professor Shelley Stamp; "Horror, more than any other film genre, deals openly with questions of gender, sexuality and the body." Perhaps watching women-led movies that dealt with subjects like these is why women love horror. 
The New-Age Bimbo; Reclaiming and Subverting Hyperfemininity is the title of my dissertation which I transferred into a digital publication to be read on a smartphone. In my dissertation I explored hyperfeminine identities and how they manifest themselves online, specifically on social media. I delve into the 'bimbo' stereotype that is often associated with overtly feminine individuals and investigate the term's evolution through the ages.